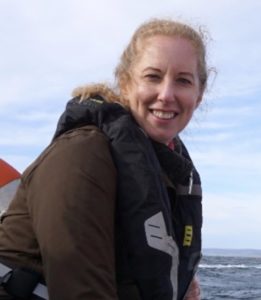 Lorna Slater's employment at Orbital Marine Power ended in June 2021.
Currently only 9% of engineers in the UK are women, which completely baffles me. There is a shortage of engineers in the UK and encouraging more women into engineering is going to be the only way to fill this 'talent gap'. Afterall, there is a lot of evidence to prove that, the more diverse the team of designers, the better the design. Look at what happened when the first crash-test dummies were designed by a team that consisted only of men.
That is to say: Except for 'tradition' there is nothing about engineering that inherently makes it more suited to men than to women.
Engineering, and the creative, practical solutions that engineers generate, are going to be needed more than ever as humanity works to overcome the challenges that face humanity around climate change. There are lots of excellent reasons why engineering is a great career choice, and I would encourage anyone to consider it. There are routes into engineering via apprenticeships, college and university.
I cannot emphasise enough the way that marine renewables is a fantastic industry for engineers. Here are my top five favourite things about being an engineer in this space:
The lovely team of people who I get to work with. Since moving to marine renewables, I've been lucky enough join teams of engineers who genuinely care about their work and who care about each other. Being part of a team and working with people who have different strengths and different knowledge to create something together, is great fun and really rewarding.
I am very lucky to be able to work in an industry that is aligned with my values. I am very concerned about the climate crisis, and I am so glad to know that the work I'm doing to help build a sustainable industry for Scotland and to create new technology for the world will go some way to helping to make our energy production sustainable for the long term.
One of the great things about engineering is how creative it is. You are daily solving problems that no one has ever had before and when you design something and then see it getting made, you can see how your own work and ideas have had an impact. You can think "This exists because of me." Your actions and decisions have concrete outcomes that you can measure and see.
Getting to travel. Through working in marine renewables, I've not only gotten to travel to beautiful Orkney, but also to Brussels, Gothenburg, Dublin, Hamburg and various other parts of Germany and the Czech Republic. It is always interesting seeing new cities and meeting engineers from other countries.
There's always something new to learn in marine renewables. I grew up in the prairies thousands of kilometres from the ocean, so I didn't know anything about tides, boats, quaysides, cranes or corrosion of metals in sea-water before I joined this industry.
As engineers we are at the front in developing sustainable technologies to generate green energy, to keep homes warm in a carbon neutral way, and to expand low carbon transportation such as trains. There is exciting new work going on in energy storage, the generation of 'clean' hydrogen and even low-carbon aviation. By studying engineering, you can bring your creativity, teamwork and problem-solving to tackling the big issues of our time and you can really make a difference.